Gordon W. Jones Associates Architects, PC is a medium sized architectural firm located at 5757 Main Street in Williamsville, NY. The firm was founded in 1968 by its namesake, the late Gordon W. Jones, AIA. Under his ownership, the firm quickly became established and respected for their design and construction of educational facilities and municipal buildings.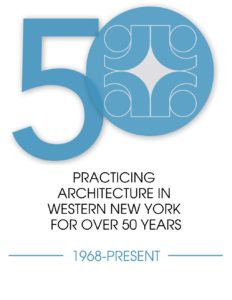 Over the past fifty years, the firm has developed a reputation of personalized yet highly professional architectural services. Our demonstrated abilities and history of honesty and integrity have led to the highest level of client retainage in the Western New York educational architectural market. We have designed and supervised school capital projects with a value exceeding one billion dollars in construction cost. This work has been distributed amongst the fourty one western New York public school districts that we have had the privilege to serve.
The firm also remains committed to the clients we have served in the Long Term Health Care community. Serving as the architect for the past 26 years at the Niagara Lutheran Health System, we continue to develop the continuum care campus known as The Greenfields in Lancaster, NY.
At Gordon W. Jones Associates, we are proud of our repeat commissions. The longstanding relationship we maintain with our clients is a testament to our dedication and commitment to each of our clients. The average tenure of our repeat commissions is twenty six years. We finish our projects on time and under budget and maintain a reputation amongst contractors for producing the highest quality of construction documents for bidding in the public school sector. This factor results in tangible lower costs to our clients.
Our workload averages fifteen active school district capital projects each year. Because of this level of continuous projects, we maintain the most current educational practices and are continuously engaged with the State Education Department officials at all levels of educational planning, maximizing financial aid and remaining current with changing safety code regulations.
Whether it is planning for consolidation, reconstructing or adding to your existing educational facilities, we will provide you with good planning and personal service. We look forward to forging new relationships and urge you to consider Gordon W. Jones Associates when selecting an architect.